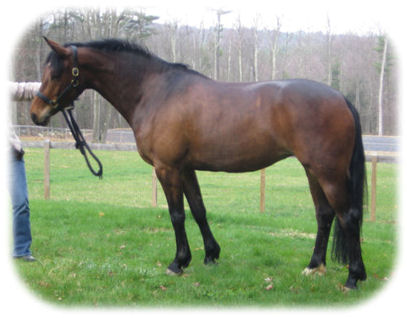 Rosa Canina
by Rohdiamant out of Funny x Contender
2002 Oldenburg mare, also approved AHS
Rosa is an imported German Oldenburg Verband mare with an exceptional temperament, excellent conformation, and a supurb hind leg. She is an absolute joy to ride. She's produced four exquisite foals, two of which I have kept. She is an incredible broodmare that consistently passes on her easy going temperament, exceptional hind leg, and Rohdiamant type. Her 2010 filly, Sakura, earned over a 74% in her first dressage test and her 2013 filly, Ambrosia, was shown on the line and finished the season as the USDF Champion Filly of 2013.
She is in foal to 2011 GOV Stallion Licensing Champion, For Romance, for an early April foal. This foal is available for sale in utero for $10k, colt or filly only options available. Don't miss this chance to buy what is sure to be an exceptional foal for such a reasonable price! Her foal cam beginning as early as late March.
---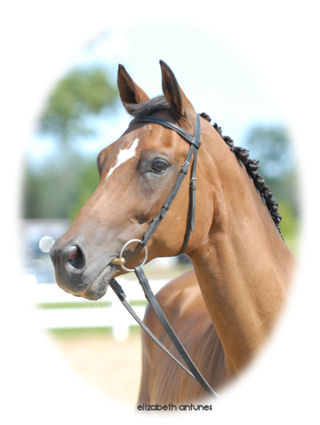 Lacrosse
by Vincent *E* out of Luna XI *E* x Heros
1987 Trakehner mare, also approved GOV
photo by elizabeth antunes
Lacrosse was our foundation mare. Her foals are typy with excellent conformation, correct movement, and a desire to please. She had a long stride and a correct hind leg that she passed on consistently. Undersaddle, she was forward and sensitive to the aids - traits her offspring consistently possess.
Lacrosse was my first dressage partner and I often wish I could start anew and avoid my many mistakes she endured without complaint. She was the perfect partner with a heart of gold. Together we earned the First and Second Level scores for my Bronze medal before a pasture injury ended her dressage career. She was an exceptional broodmare and blessed me with five fabulous foals. I feel honored to have been able to spend 21 years with her.