Lacrosse's first show season was by far my most successful season ever. It started with considerable uncertainty at the Wentworth Hunt Show this spring. There we experienced the full range of emotion, ending the day with a score of 69+% in Training Level Test 2! The show season was consistently successful even when we ventured to our first AHSA rated show, GMHA Dressage Days. Unfortunately, our NEDA debut was cut short due to an intense rain storm, but, thankfully, she handled being stabled on show grounds well. We ended the year MRF Dressage Training Level Champion, Southern NH Dressage & CT Training Level Champion and First Level Reserve Champion. We are aiming for First and Second Level next year, concentrating more on rated shows than schooling shows.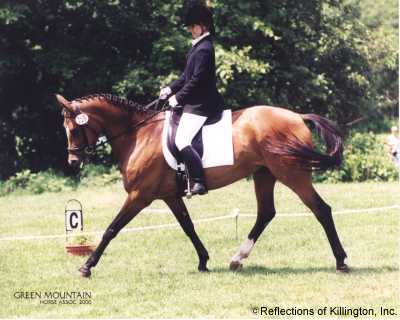 Lacrosse was recently joined by a tall, dark, and handsome two year old gelding, Leevi, by her half brother, Lenzsturm. Everyone seems to think that it was fate that he entered my life. With any luck he'll start into serious training about the same time Lacrosse's retirement starts. In the meantime we are having fun getting to know each other as he continues to grow. Indeed, he dwarfs Lacrosse even though technically he's currently only two inches taller.
Lately, I've been getting into clicker training. I've found that it helped Lacrosse a lot, particularly with lateral work. She's more relaxed and forward than ever before. I can't tell you how satisfying it is being able to say "Yes, you're right!". She's really blossomed now that I've been able to concentrate solely on her. Leevi also thinks clicker training is the best thing since the invention of grain. He's a quick learner and I am excited to have a young horse to clicker train from the ground up.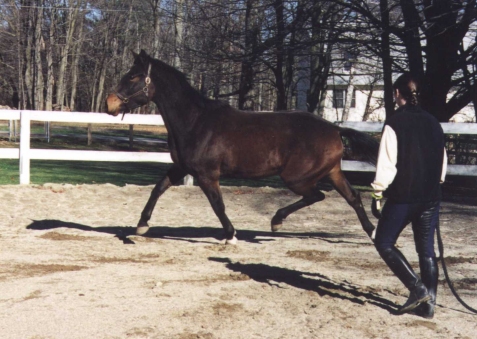 I have been feeding a rather unconventional hay source for over two years now and if anything am even more convinced that it is the best I can give them than ever before. I feed a timothy/alfalfa hay cube. It is very convienent, has guaranteed nutritional content, and is very palatable. I don't find that they eat the cubes any faster than the hay they used to get and I have not had any problems with choke. An unexpected benefit: my farrier has noticed significant improvement in the connective tissue in their hooves. It would take an cheap excellent crop of hay for me to even consider switching back. If anyone has any questions, feel free to email me.